Testimonials
Here is what some of our clients have to say: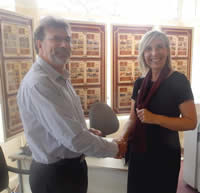 I would like to thank Jonathan Waters letting team for the excellent professional service that they have delivered over the last few months."

"Special thanks to Philippa and Matthew who both pay great attention to detail when finding and checking in tenants. They both have a wealth of knowledge which makes the letting process straightforward. This has enabled me to have confidence that my properties are in a safe pair of hands, leaving me free to embark on a career change."

"As a landlord I think it is important to have a local agent who deals with all parts of the lettings process in one office."

"Once again thank you Jane, Philippa and Matthew."
Mr Clark, Ipswich
"Everyone I dealt with at Jonathan Waters were very helpful. I was kept updated throughout and would particularly like to mention Philippa and Jane. You were excellent."

Mrs Cook, Ipswich
"I thank you from the bottom of my heart for taking my case so seriously, for all your help, and above all for your prompt emails. I would like to say that Jonathan Waters needs people of your calibre Jane that are so dedicated to your job. Thanks, for a million time, for everything. I specifically thank you Jane - God bless you."
Mr Fatah, Ipswich
"Jonathan Waters rented my property out in less than a week. Their service was second to none and continues to be excellent. They liaise with me on any maintenance issues and property inspections are carried out regularly.
All the staff went above and beyond to help ready my house for prospective tenants. They arranged quotes for work that needed to be done and even did some of it themselves to save on costs.
I could not have asked for better service and they kept me informed every step of the way.
Thank you Jonathan Waters. You took all the hard work out of renting and I couldn't have done it without you."
Mrs Miller, Ipswich
I would like to express my complete satisfaction with your letting and servicing,everything that has been needed has been completed on time and with no problems.I hope this will continue and we will have a system that is as efficient as it has been up to now.
All the comments from past clients concern the
actual
staff who work from our offices and they are the
same
people who will be dealing with
you
in the rental of
your
property.